I saw the Lord (Isaiah 6:1-4) – John Stainer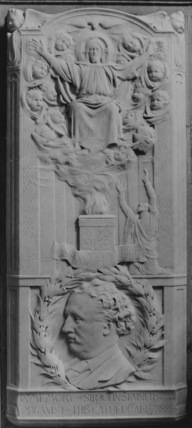 1 In the year that king Uzziah died I saw also the Lord sitting upon a throne, high and lifted up, and his train filled the temple.
2 Above it stood the seraphims: each one had six wings; with twain he covered his face, and with twain he covered his feet, and with twain he did fly.
3 And one cried unto another, and said, Holy, holy, holy, is the Lord of hosts: the whole earth is full of his glory.
4 And the posts of the door moved at the voice of him that cried, and the house was filled with smoke.
[plus additional text from an 11th-century Latin hymn]
—
I saw the Lord (1858), an anthem by Sir John Stainer (1840-1901).
Stainer's memorial in Saint Paul's Cathedral is shown at right. As artist Henry A. Pegram described his "inadequate" work:
The upper part of the Panel contains the subject of Stainer's anthem "I saw the Lord." The prophet Isaiah, with outstretched arms, kneels near an altar, from the smoke of which arises the vision — Christ enthroned and encircled by Seraphim.
Performed by The Sixteen
Performed by the Parish Choir of St Andrew's Episcopal Church, Highland Park, Pittsburgh, Pennsylvania. Soloists: Gabriela Pascale Schunn, treble; Mary Pat Luley, alto; James Ranson, tenor; Joseph Tuttle, baritone. Guest Organist: Joseph Nolan of St George's Cathedral, Perth, Australia. Choirmaster: Peter J. Luley.
BUY MP3/ALBUM
MP3: I saw the Lord, by John Stainer / The Choir of the Abbey School / British Church Composer Series / Priory Records
SHEET MUSIC
I Saw the Lord. (SSAATTBB and Organ). By John Stainer (1840-1901). Music Sales America. Romantic, Sacred, Sacred, Choral. 18 pages. Published by Novello & Co Ltd.
FREE SHEET MUSIC