When David heard (2 Samuel 18:33) – Thomas Tomkins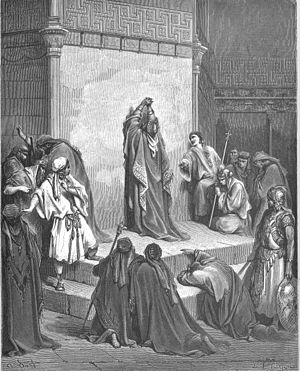 33 And the king was much moved, and went up to the chamber over the gate, and wept: and as he went, thus he said, O my son Absalom, my son, my son Absalom! would God I had died for thee, O Absalom, my son, my son!
—
When David heard (1622) by Thomas Tomkins (1572-1656)

Performed by Primus 8 from Östersund Sweden

Performed by Stile Antico
BUY MP3/ALBUM
MP3: Tomkins: When David Heard; The Choir of Clare College, Timothy Brown / Heritage
SHEET MUSIC
For SAATB Choir (Mixed Voices). Lent. Choral. Published by Stainer & Bell Ltd.
FREE SHEET MUSIC