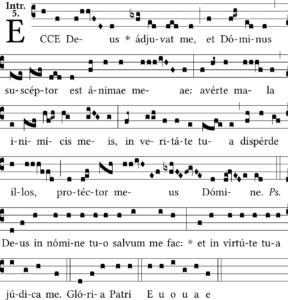 Psalm 54:4-5,1 [Latin: Psalm 53:6-7,3]
4 Behold, God is mine helper: the Lord is with them that uphold my soul.
5 He shall reward evil unto mine enemies: cut them off in thy truth.
1 Save me, O God, by thy name, and judge me [in music: "deliver me"] by thy strength.
Ecce Deus ádjuvat me, et Dóminus suscéptor est ánimæ meæ: avérte mala inimícis meis, et in veritáte tua dispérde illos, protéctor meus, Dómine. Ps. ibid. 3. Deus, in nómine tuo salvum me fac: et in virtúte tua líbera me
---
Introitus: Ecce Deus adiuvat me, from the Graduale Romanum, Vatican, 1908, p. 291
Introitus: Ecce Deus adiuvat me
Sung by Marek Klein
FREE SHEET MUSIC in scrolling YouTube video above or at GregoBase