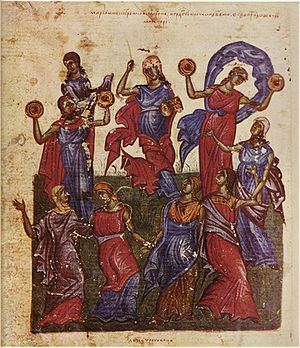 21 And Miriam answered them, Sing ye to the LORD, for he hath triumphed gloriously; the horse and his rider hath he thrown into the sea.
4 Pharaoh's chariots and his host hath he cast into the sea: his chosen captains also are drowned in the Red sea.
—
Sing ye to the Lord (1911) by Edward Bairstow (1874-1946)

Performed by St. John's Church Choir, Detroit
BUY MP3/ALBUM

MP3: Beverly Hills All Saints' Church Choir


ALBUM: Easter: Hymns, Carols & Anthems / Gothic
SHEET MUSIC
For SATB Choir, Organ; Published by Novello & Co Ltd.
FREE SHEET MUSIC
Choral Public Domain Library